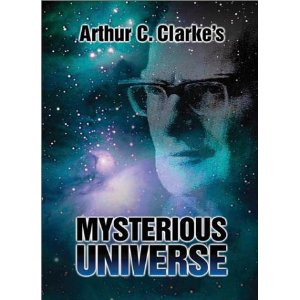 Arthur C. Clarke's Mysterious Universe was a popular eighteen part television series looking at unexplained phenomena across the universe. It was first broadcast in 1994 in the UK by independent television network ITV. It was the sequel to Arthur C. Clarke's Mysterious World and Arthur C. Clarke's World of Strange Powers.

The series is introduced by acclaimed science fiction writer Arthur C. Clarke in short sequences filmed at his home in Sri Lanka. However, individual episodes are narrated by Carol Vorderman. The series was produced by John Fairley and directed by Peter Jones, Michael Weigall and Charles Flynn.
The Psychic Detectives
Keys to the Past
Secrets of the Pyramids
Mysteries of the Maya
Squaring the Bermuda Triangle
Doom of the Dinosaurs
Cracking Codes: Writings, Runes and Other Riddles
Zombies, The Living Dead?
The Strange Powers of Animals
Into Thin Air

Currently being repeated in the UK on a satellite TV channel, the following episodes of Arthur C. Clarke's Mysterious Universe have also been shown and have a copyright date of 1995, not 1994.
Baffling Bombardments
Meeting Mary Visions Of The Virgin
Secrets Of Ancient Worlds
Spirits Of Place Hauntings & Spectres
True Or False More Than Meets The Eye?
Mysteries Of The North
External links
Edit