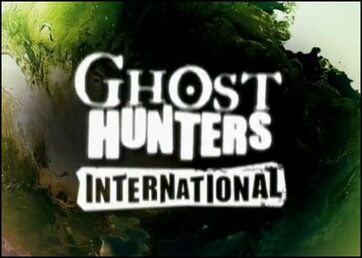 Ghost Hunters International
(abbreviated as
GHI
) is a spin-off series of
Ghost Hunters
that airs on Syfy. The series premiered on January 9, 2008. Like its parent series,
GHI
is a reality series that follows a team of
paranormal
investigators; whereas, the original series primarily covered only locations within the United States, the
GHI
team travels around the world and documents some of the world's most legendary
haunted locations
.
Investigators
Edit
Current Cast:
Barry Fitzgerald (investigator)– Lead Investigator
Kris Williams – Co-Lead Investigator Paul Bradford – Tech Manager
Susan Slaughter – Ghost Hunters Academy Case Manager/Investigator-in-Training
Joe Chin – Investigator
Scott Tepperman – Investigator
Former cast:
Andy Andrews – Lead Investigator Brian Harnois – Tech Manager Donna La Croix – Case Manager Shannon Sylvia – Investigator Angela Alderman – Investigator Dustin Pari – Investigator Karl Pfeiffer – Ghost Hunters Academy Investigator-in-Training Ashley Godwin – Investigator Brandy Green – Case Manager/Investigator
Robb Demarest – Lead Investigator
Britt Griffith – Investigator
Guests
Josh Gates – host of Destination Truth, appeared in the episode "Frankenstein's Castle"
Kris Williams – member of TAPS, appeared in "Castle of the Damned"
Robert Hernandez – Investigator
Paul Winters – Investigator
Leslie Sweetman and Fernando Rodas - Paranormal Investigators of Trinidad and Tobago (PITT)
Series overview
Edit
Season one (2008–2009)
Edit
Ep.#
Original Airdate
Episode Title
Nation(s)
Investigation
101
January 9, 2008
Chillingham Castle
[1]
Chillingham, England –Chillingham Castle and Edinburgh, Scotland –Mary King's Close
102
January 16, 2008
Evil Unearthed
[2]
Turin, Italy –Lucedio Abbey and Aberystwyth, Wales –Nanteos Mansion
103
January 23, 2008
Whispers From Beyond
[4]
Edinburgh, Scotland – The Ragged School and Leicester, England –Belgrave Hall
104
January 30, 2008
Haunted Village
[5]
Pluckley, England – The Black Horse Inn, Elvey Farm, and The Screaming Woods
105
February 6, 2008
Fortress of Fear
[6]
Râşnov, Romania – Citadel Râşnov
106
February 13, 2008
Headless Haunting
[7]
Slovakia –Orava Castle and Germany – Reichenstein Castle
107
February 20, 2008
Frankenstein's Castle
[9]
Darmstadt, Germany –Frankenstein Castle
108
July 9, 2008
Larnach Castle
[10]
Dunedin, New Zealand –Larnach Castle
109
July 16, 2008
Devil Dog
[11]
Wellington, New Zealand –Opera House and Gloucestershire, England –Woodchester Mansion
110
July 23, 2008
Castle of the Damned
[13]
Tullamore, Ireland –Charleville Castle and Samlesbury, England –Samlesbury Hall
111
July 30, 2008
Shattered Spirit
[15]
Denbighshire, North Wales –Bodelwyddan Castle
112
August 6, 2008
Hauntings of South Africa
[16]
KwaZulu-Natal, South Africa – Nottingham Road Hotel and Cape Town, South Africa –Cape Town Castle
113
August 13, 2008
Tortured Souls
[17]
Predjama, Slovenia –Predjama Castle and Čachtice, Slovakia –Čachtice Castle
114
August 20, 2008
Dracula's Castle
[19]
Transylvania, Romania –Bánffy Castle and Curtea de Argeş, Romania –Dracula's Castle
115
January 7, 2009
The Ghost Child of Peru
[20]
Callao, Peru –Real Felipe Fortress
116
January 14, 2009
City of the Doomed
[21]
Cambuquira, Brazil – Grande Hotel and São Paulo, Brazil – The Little Castle
117
January 21, 2009
A Call For Help
[22]
Copenhagen, Denmark –Trekroner Fort and Lima, Peru – Casa Garland
118
January 28, 2009
Restless Souls of Sweden
[24]
Borgvattnet, Sweden – House of Priests and Varberg, Sweden –Fortress of Varberg
119
February 4, 2009
Buried Alive
[25]
Dragsholm, Denmark –Dragsholm Castle and Rio de Janeiro, Brazil – Cultural Center
120
February 11, 2009
Unknown Soldiers
[27]
Angeles City, Philippines –Clark Hospital and Baguio City, Philippines – Diplomat Hotel
121
February 18, 2009
Spanish Scares
[28]
Madrid, Spain – Castillo de la Coracera and Celrà, Spain – Castel d'Escales
122
February 25, 2009
Ghosts in the City of Lights
[29]
Bordeaux, France –Château Lagorce and Paris, France – Capucins Quarries
123
March 4, 2009
Karosta Prison
[30]
Liepāja, Latvia – Karostas Cietums
Season two (2009–2011)
Edit
Ep.#
Original Airdate
Episode Title
Nation(s)
Investigation
201
July 8, 2009
Wicklow's Gaol
[31]
Wicklow, Ireland – Wicklow's Historic Gaol
202
July 15, 2009
Skeleton in the Closet
[32]
Bohemia, Czech Republic –Český Krumlov and Rathlin Island, Northern Ireland – Manor House
203
July 22, 2009
Gate to Hell
[34]
Blatce, Czech Republic –Houska Castle
204
July 29, 2009
Witches Castle
[35]
Unternberg, Austria – Moosham Castle and Spittal an der Drau, Austria –Schloss Porcia
205
August 5, 2009
Spirits of Italy
[36]
Fosdinovo, Italy –Malaspina Castle and Genoa, Italy – Palazzo Ducale
206
August 12, 2009
Holy Ghosts
[37]
El Bosque, Chile – El Bosque City Hall and Valparaíso, Chile – Santiago Sevrin Library
207
January 6, 2010
Hitler's Ghost
[38]
Miramar, Argentina – Gran Hotel Viena
208
January 13, 2010
Silver Shadow
[39]
La Falda, Argentina – Eden Hotel and Junee, Australia –Monte Cristo
209
January 20, 2010
Quarantine Station
[41]
Sydney, Australia –Quarantine Station
210
January 27, 2010
Port Arthur Penitentiary
[42]
Port Arthur, Tasmania – Port Arthur Penitentiary
211
February 3, 2010
Tasmania Death Sentence
[43]
Hobart, Tasmania – Supreme Courthouse and Batu Gajah, Malaysia –Kellie's Castle
212
February 10, 2010
San Lucas Prison
[45]
San Lucas Island, Costa Rica –San Lucas Prison
213
February 17, 2010
The Legend of Rose Hall
[46]
Cartago, Costa Rica – Duran Sanatorium and Montego Bay, Jamaica –Rose Hall Great House
214
July 14, 2010
The Spirit of Robin Hood
[48]
Nottingham, England –Galleries of Justice
215
July 21, 2010
Sweeney Todd
[49]
Port Talbot, Wales –Margam Castle and Colnbrook, England – The Ostrich Inn
216
July 28, 2010
Wolf's Lair
[50]
Kętrzyn, Poland –Wolf's Lair
217
August 4, 2010
The Devil's Wedding
[51]
Halden, Norway –Fredriksten Fortress and Tallinn, Estonia – The Old House
218
August 11, 2010
Demons of Nicaragua
[53]
Masaya, Nicaragua – Coyotepe Fortress and León, Nicaragua – Carcel XXI
219
August 18, 2010
Pirates of the Caribbean
[54]
Omoa, Honduras –Fortaleza de San Fernando
220
January 5, 2011
Hamlet's Castle
[55]
Helsingør, Denmark –Kronborg Castle
221
January 12, 2011
Ghosts of the Eastern Bloc
[56]
Pidhirtsi, Ukraine –Pidhirtsi Castle and Reszel, Poland – Reszel Castle
222
January 19, 2011
Unfaithful Spirit
[58]
Fürsteneck, Germany – Fürsteneck Castle
223
January 26, 2011
Amsterdamned
[59]
Huissen, Netherlands – Huissen House and IJmuiden, Netherlands – IJmuiden Fortress
224
February 2, 2011
Army of the Dead
[60]
Novi Sad, Serbia –Petrovaradin Fortress
225
February 9, 2011
Shadows in the Dark
[61]
Edinburgh, Scotland –Usher Hall and Inveraray, Scotland –Inveraray Jail
226
February 16, 2011
Soldiers of Misfortune
[62]
San Juan, Puerto Rico –El Morro Fortress and Tapia Theater
Season three (2011-2012)
Edit
Ep.#
Original Airdate
Episode Title
Nation(s)
Investigation
301
July 13, 2011
Rising from the Grave
[63]
Lopinot Valley, Trinidad and Tobago - Lopinot Plantation
302
July 20, 2011
Sensing Evil
[64]
Chacachacare Island, Trinidad and Tobago - Leper Colony and Gualeguaychú, Argentina - Frigorifco Gualeguaychú
303
July 27, 2011
Touched by the Dead
[66]
Limavady, Northern Ireland - Roe Valley Hospital and Cork Harbour, Ireland - Spike Island
304
August 3, 2011
Search for the She-Wolf
[68]
Norfolk, England - Castle Rising
305
August 10, 2011
Murders and Mysteries
[69]
Castletown, Isle of Man - Castle Rushen and Christchurch, New Zealand - Riccarton Racecourse Hotel
306
August 17, 2011
Imprisoned Souls
[71]
Napier, New Zealand - Napier Prison
307
February 22, 2012[3]
TBA
DVD releases
Edit
Ghost Hunters International Complete First Season
Ghost Hunters International Season 1, Part 2