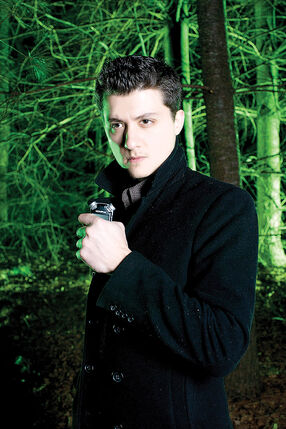 Ryan Daniel Buell (born July 8, 1982) is an American paranormal investigator, author and producer who founded the Paranormal Research Society when he was a 19-year-old student at Pennsylvania State University.
Early life
Edit
Buell was born in Corry, Pennsylvania of Italian and Native American ancestry, and raised in Sumter, South Carolina. He earned bachelor degrees in journalism and anthropology from Penn State.
Buell's investigations became the core premise of the A&E show Paranormal State, for which Buell is the director. Buell is also the Executive Producer for an upcoming feature film, American Ghost Hunter, which was announced to be in production in Spring 2009. The film was shot in May 2009 and Buell claims they are currently negotiating a distributor. In 2011, Buell and partner Chad Calek announced a 41-city tour for "American Ghost Hunter," claiming it to be one of the most ambitious film tours outside of the traditional Hollywood system in history. In 2010, Buell served as Co-Executive Producer for "Paranormal State" as well as for "The Ghost Prophecies," which he also served as co-creator. However, he and his team decided against continuing Paranormal State after the fifth season to pursue other things. Their final episode aired Monday, May 2nd, 2011.

Buell's memoir, Paranormal State: My Journey into the Unknown was released in September 2010. Among other subjects, Buell discusses his bisexuality and his struggle to reconcile his sexual orientation with his Catholicism. "I've decided to share my sexuality and struggle over faith in hopes that others will no longer feel as though they are alone or that they can't be religious."
External links
Edit